A C O U S T I C A L P A N E L S
PS80AL
The PS-80AL's aluminum frame makes it an ideal choice for installations where added structural stability is important. The fabric or perforated wallcovering you choose will be beautifullywrapped around the front and sides of the panel. The PS-80AL isavailable in 1-5/16" or 2-5/16" thicknesses, and a maximum width of 5 feet when covered with fabric. If your height requirements are greater than ten feet, custom construction can be arranged.
Options available in core material and covering allow rooms to be designed for the maximum in acoustical performance,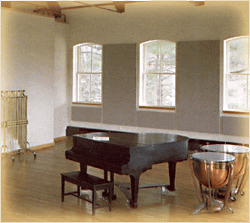 See below For More samples.
Click on Any Picture below for an Enlargment.